400Club
Documents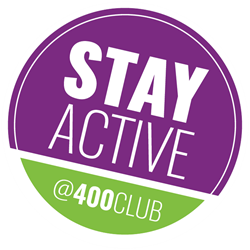 ---
Where minds, bodies and spirits are staying active! To join, you must be 18 or older and need assistance with mobility or other activities of daily living.
705-474-4250
400CLUB requires a referral from the LHIN [Local Health Integration Network]. You can reach them at 705-476-2220. Once we receive the referral, we'll set up a tour and start your membership! Join us one day a week... or five!
Full Day
Monday to Friday
8:30 a.m. to 4:30 p.m.
$15.00 – includes nutritious meal
Half Day
Monday to Friday
$13.50 – includes nutritious meal
$7.50 – without meal
---
400CLUB is a warm, welcoming and safe place to meet friends, try new things and enjoy a tasty mid-day meal. We offer a wide variety of activities to get seniors out of the house and having more fun. Our vision is to become a community hub with services and activities for seniors. 400CLUB has something for everyone, no matter what abilities, energy or interests they possess.
Exercise

Music

Games

Manicures

Arts & Crafts

Outings

Baking

Socializing

Reminiscing

Happy Hour!
---
Getting older shouldn't be scary. It's a time to be connected to your community, share experiences and have fun. Research shows that staying engaged can reduce medical interventions and anxiety.
While members enjoy the comfort of the 400CLUB, their friends, family and caregivers can relax and pursue other activities.
400CLUB is wheelchair accessible. We have a patio and garden to enjoy in good weather. Plus, members can also access a number of wonderful, affordable services like hairdressing and foot care.
---
400CLUB is specially designed for those with physical challenges and/or memory issues. It's hosted by talented, caring professionals and volunteers.
Message to Caregivers
Are you caring for someone with mobility issues, dementia or memory loss?

Would you like some extra time to get the groceries done, or catch up with friends?

Sign your loved one up for

400

CLUB today!
---
Download the 400CLUB brochure here.
Cassellholme

News
Cassellholme

Time to Meet