Compliments
Documents
Cassellholme staff and volunteers work hard to create a welcoming home for all Residents. We encourage you to reward them with compliments whenever you see an employee do great things. Employees are not permitted to accept money or gifts; however, they appreciate a verbal or written "Thank You".
---
To: Send-A-Card
What a wonderful option for those of us that don't get out too often. I for one, love this idea.
As I have leukemia, I don't go out much and visiting Rick is not a good idea with the state of my immune system. I know he misses visiting me but there are  stairs and I can't get him up and down. At least a card now and then will make him feel special!!
From: Beverly
---
To: Activity Staff
When my dear sister Maria Fortier,,, was admitted to Cassellhome approximately one year ago,,,I was just devastated,,,,however since then,,,I must tell you how grateful I am to the All the staff ,,,My dear sister is so happy to be at Cassellhome,,she actually told me yesterday after I had her out for a walk,,,that she wanted to go back HOME now,,,my heart skipped a beat just hearing her calling Cassellhome HOME,,,my sister has always been so full of life,m,full of energy and always had a smile For you,,'That did disappear for the first few months,,but NOW!,just seeing that her happiness and her beautiful smile is back,,,makes me so relieved and at peace knowing how happy she is there,,,,THIS IS BE AUSE OF THE WONDERFUL STAFF taking care of her,,,,,,I am so grateful to you all and Thankyou all for giving our family peace of mind now, knowing how well she is taken care of,,,,, I the wake of this years Ovid 19 outbreak,,,,I also congratulate all the staff for staying Covid free all these months,,,That I'm sure takes a lot of hard work for you all,,, So,,,,stay safe and again,,,your ALL THE BEST,,,How fortunate we are to have Cassellhome and these hard working , caring staff. My best regards to you all.
From: Stella Cain
---
To: Jillian
Thank you Jillian for my Covid testing today,,,,was so quick and easy,,,,this is ,,again,,Casselhome at its BEST thanks to all the great employees.
From: Stella
---
To: Micheline
For having helped my mother Jacqueline through her difficult times and for calming her and making her feel loved.
From: Emilie
---
To: Matthew
For coming in to say good-bye to my mother Jacqueline and for always being so kind and loving to her during her stay.
From: Emilie
---
To: Community Support Services - PSW's, Faye, Catherine and Breanne
I just wanted to say thank you so much to the PSW's who go into my Poppa's home several times a day to help him with meds, groceries, meals and everything else that they do!! No matter what situation happens to catch us off guard EVERYONE in that department is so quick to offer help and they have saved us often. Most of Poppa's family lives out of town and it makes it harder to help him and look after him the way we'd really like to but because of this team he's been able to stay in his beloved home which is where he wants to be. So thank you so much!!! P.S. your page made me select a date...but this is something that happens every day
From: Linda
---
To: The whole staffing and Management team
Covid-19 This is the home my father is trying to get into. Thank you for all your effective and safe working practises. You have done so well in the mess we are living in today. My father is Robert who lives in Cassell Arms #1, Thank you
From: Terry
---
To: Staff in general
I would like to thank the staff for setting up phone calls between my parents during these crazy times! Although my Mom has dementia and probably did not fully understand the phone call, I am sure it made her happy for a few minutes. The phone call did a world of good for my father who got to speak to his wife for the first time in many weeks. It reassured him that she was in good hands and it is giving him something to look forward to! The gesture is truly appreciated. Thank you for taking care of my Mom.
From: Debbie
---
To: Jillian
every time I see her, she is so helpful and welcoming. No question is too small to ask her and she seems to know everything going on at Cassellholme. Treats everybody like 'her people'
From: Anonymous
---
To: Activities Staff
Thanks to all recreation staff and volunteers for their hard work on making the Glam Shots Day so delightful for the residents. My mom, Dorothy and I really enjoyed getting her all dolled up as well as seeing participation of so many.
From: Andrea
---
To: Pat
My mom (Corinne) just arrived at Cassellholme and Pat looked after her needs immediately with caring and patience
From: Louise
---
---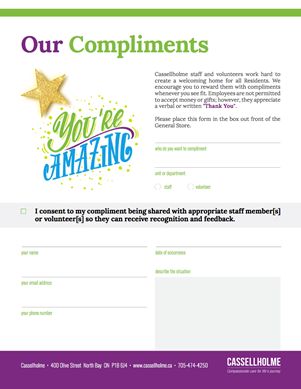 Alternatively, you can print, fill out and place this form in the box out front of the General Store.
Cassellholme

News
Cassellholme

Time to Meet