Up-To-Date with Dave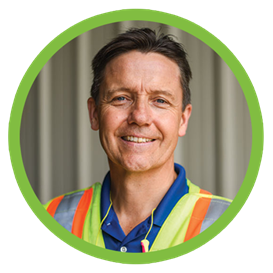 Dave Smits, P. Eng., 
Director Facilities and Capital Projects
September 21, 2022
Getting closer, but not here yet…
Instead of repairing the hammer portion of the piling machine [as mentioned yesterday – September 20th], a new hammer was ordered and is on its way. It's currently at customs and is now due to arrive on Monday. It will then be set up with the equipment that is already on site – ready to start piling on Tuesday, September 27th. Don't forget, you can watch the action on the live camera feed
---
September 20, 2022
The piling machine has arrived. However, the actual hammer portion won't come until tomorrow [September 21, 2022] as it requires some repairs. Test piles will start tomorrow or Thursday [September 22, 2022].
---
September 14, 2022
The piling machine was set to arrive on redevelopment site today and piling was scheduled to start tomorrow. There was, however, a permit processing delay at the Ministry of Transportation [MTO]. The machine will now arrive on Monday [September 19th] and piling will commence on Tuesday [September 20th].
If you aren't already watching the job site, check it out next week to see the set up and progress of this next big step.
To read more about piling, check out this letter.
---
September 7, 2022
Welcome to September everyone! Recently, the focus of our work has been to complete the water service for the new building, while relocating the water service to the existing facility. This caused the water outages we experienced recently and I want to thank everyone for their patience!
PILING
We are moving on with excavation along Olive Street to allow us to begin installation of the foundation for Phase 1 of the new building. The foundations for the building must rest on steel "piles", given the soil conditions in the area. Piles are large metal beams that are installed deep in the ground, using an impact hammer. This is called "piling", and it generates significant noise and vibrations. The building's concrete foundation will rest on these piles and the actual construction of Phase 1 of the new facility will rise up from there.
Piling is scheduled to begin the week of September 12th. It will be carried out each day between 7:00 a.m. and 5:00 p.m. Depending on how work progresses, it may occur up to six days a week and take up to six weeks.
Read this letter for more details about piling.
PARKING
The piling steel for Phase 1 was all delivered last week into the parking lot between Cassellholme and Castle Arms IV, which had an impact on parking in this area. Percon is working to have as many piles as possible moved into the excavation along Olive Street this week. We hope to be able to use this parking until the new lot along the highway has been completed. That's expected at the end of September. Some parking on the grass across from the construction trailers is still available. Please use these spaces if you are on site working the day shift. 
Excavation for the parking lot along the highway will have to occur from the North Tower, across to the new site. This will allow us to install power for lighting and conduit for security cameras in the new parking lot. This work is expected in the next two weeks, so please pay attention to temporary traffic signs that will be in place when this work is being completed. We know this is a very busy area. We're working with Percon to ensure this work is completed as quickly as possible.
---
July 19, 2022
DRIVEWAY AND PARKING LOT
The redevelopment is well under way. The new driveway is off Olive Street, with a new parking lot [between Cassellholme and Castle Arms 1] ready for your arrival.

MAIN ENTRANCE [Wednesday, July 20th]
Tomorrow, at 7 a.m., we'll be opening the new main door. This entrance is temporary until the redevelopment is complete. It's clearly marked with a bright purple door - you can't miss it. Still to come – a new Cassellholme sign to go above the door and base moulding – once received, both will be installed.

WEB PAGES
To keep you up-to-date, we've been adding to the website. Check back regularly; as we continue putting together fresh content. For now, the live camera is... well... live! Just press "play" to see the new driveway and parking lot. As we start construction on the other side of the building, the camera will be moved so you can watch live progress. More exciting announcements are coming. For instance, in August, we'll be starting on the new building! This and other updates from me will be on the web site, on this page.