Covid-19 info
Documents


Follow the Golden [government] Rule
We know it's frustrating to keep your distance and to speak from behind a mask. We're all dealing with the same rules – here at Cassellholme and in our own families.
The provincial government is clear – failure to wear a face mask [NO EATING or DRINKING], or keep physical distance, can result in a loss of visiting privileges and your loved one may have to isolate for two weeks. None of us want that to happen.
Please download the new guidelines and/or this simplified visiting chart. Review them carefully before scheduling your next visit.
---
All essential caregivers to Cassellholme will be required to show proof of their negative COVID-19 test results. This also includes essential caregivers who were tested at Cassellholme.
Weekly COVID-19 testing takes effect December 29th for all essential caregivers and staff.
---
---
---
CALL 705-474-4250 EXT. 300
indoor visits [one visitor at a time]
outings
COVID test appointments [bi-weekly]
virtual visits for out-of-town family and friends
Call at least 24 hours in advance. Leave a message.
If you are calling Cassellholme to check on a loved one's health, use extension 300.
This extension is answered 7 days a week, between 9:00 a.m. and  5:00 p.m.
As you can imagine, we're getting a lot of extra calls these days. Please be patient, we're trying to return voicemail messages within 24 hours. This line is also used for general enquires.
---
We know that being in touch with your loved one during this challenging time is important.
Current Provincial Rules
face masks [covering nose and mouth] must be on at all times
no eating or drinking – mask has to be on at all times
stay 6 feet [2m] apart – NO physical contact with Residents
arrive at your appointment time – not early, not late
visitors must stay in Resident's room for their 30 minute visit
visitors can bring food or packages to loved ones
a negative COVID-19 test is required within past two weeks — note: we offer free testing to families every other Thursday. Call for an appointment – next clinic is December 3rd.
---
Cassellholme's management team meets daily to discuss, review and implement directives from the Ministry of Health, including the use of masks and other PPE for employees. This includes both the types of mask and the location where it should be worn. The team is ready to make any changes as soon as they are required.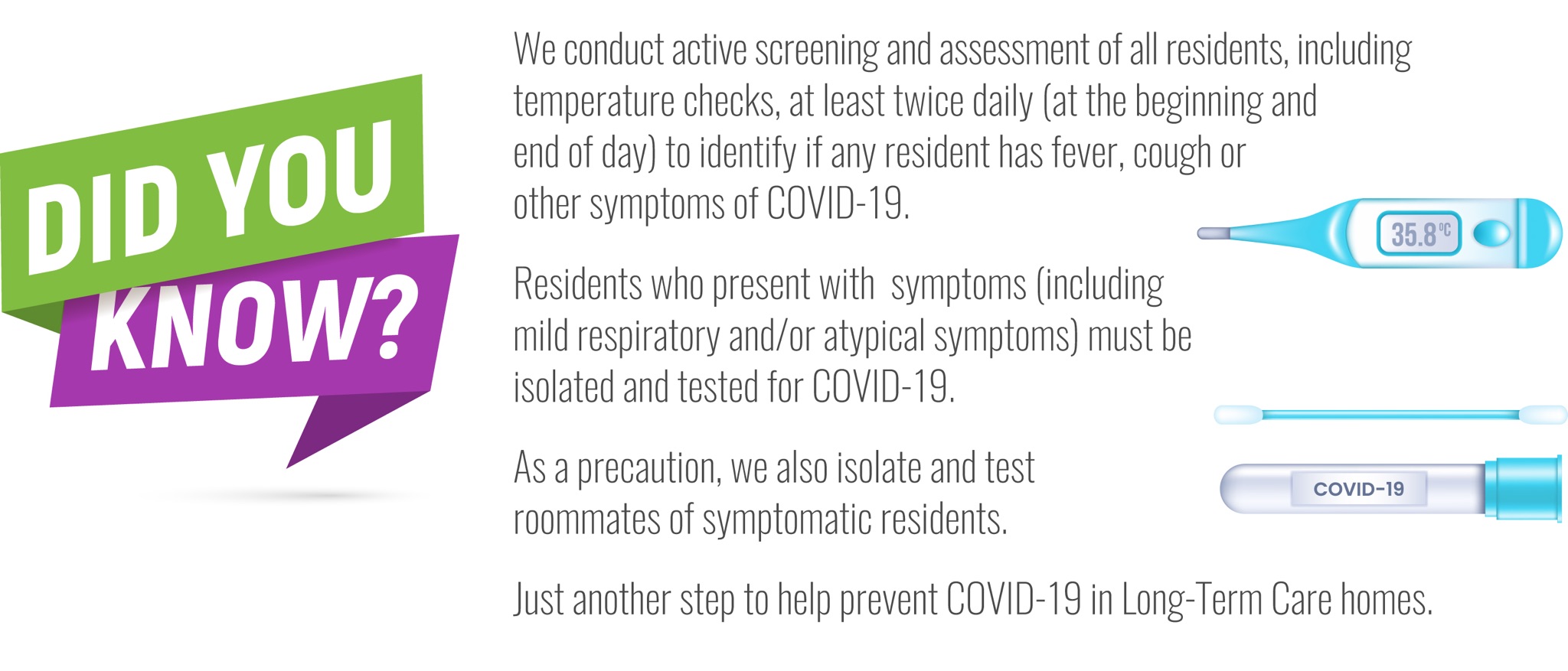 Things To

Look Forward To...
Cassellholme

News