Covid-19 info
Documents
---
Today Jamie Lowery had a Zoom meeting with essential caregivers. He updated them on the outbreak and answered questions.
Here are the highlights:
While we have been taken out of outbreak status, we are being very cautious about how to return to "normal" here at Cassellholme.
As you've no doubt heard in the news, there are a number of variants that seem to be more contagious and easily spread. We want to be certain that everyone -- Residents, staff, essential caregivers, etc. are all protected in the best way possible before we reopen.
Jamie explained what happened with the recent testing issues.
He also outlined how testing will work, when essential caregivers are able to return.

They [and staff] will be given rapid tests three times a week.
If they get a positive result, they'll have to go to the hospital for a full PCR test and isolate until their results come back.
If they get a negative result back from that in-depth test, they can come back to Cassellholme.

Cassellholme has been conducting approximately 1,000 tests a week. Going forward, we'll be doing more than 1,800 a week. This is an important job, which adds many hours to the staff workload.
It's important that everybody plays their part in staying safe and keeping our Residents healthy and happy!
---
Midweek roundup –

On Monday, our Residents received their second dose of COVID-19 Vaccine! A huge thank you to the North Bay Parry Sound District Health Unit and to the fantastic Cassellholme Staff for making the day a great success! Check out some of the photos – https://www.facebook.com/cassellholme/

On Friday, the last isolated Residents will move back to their rooms/routines. We hope to end the outbreak status and start mapping out the safe return of essential caregivers to Cassellholme.

With so much good news, spring must be just around the corner...

questions@cassellholme.ca
---
Here are a few more answers to questions we've received...
Are Cassellholme staff still being tested?
Yes. Staff continue to be tested weekly. Starting next week, we'll start using the Panbio rapid test.
What kinds of COVID tests are available? 
There are two kinds of tests widely in use. The confusing part is, they go by a few different names. 
#1  Molecular Test (also known as RNA, PCR, or nucleic acid tests)
These are considered the most reliable kind of test because they are used to detect specific genetic material (RNA) related to the virus. They are effective within days of exposure/infection - often before a person has symptoms. The test is simple to do. However, depending how busy the lab is, results can take anywhere from two to seven days. 
#2  Antigen Test (frequently called the rapid test)
This method looks for a protein specific to the Coronavirus, which is most present in the early stages of infection. Because these test swabs do not have to go to an outside lab, results are delivered much faster - sometimes within 15 minutes. However, the test has been found to be less accurate.

We have been using the "gold standard" PCR test so far. As more people in the community get vaccinated, and if infection rates continue to fall, we'll transition to the rapid test. 
---
As promised, we are responding to your questions from last week. Thank you to everyone who resent their messages to
questions@cassellholme.ca
. Fingers crossed, our technical challenges are behind us!
We've combined your questions into these three common categories:
1. When the Residents were retested on Thursday, was it the rapid or regular test? Any results? 
We conducted regular PCR testing on all Residents and results received so far are all negative. We're waiting for the last few to be processed/reported.
2. When can essential caregivers begin visiting again?
We hope to have an answer in the next few days, but at the moment we are still in an outbreak status. We'll let you know as soon as we hear.


3. Why are tests sent to Toronto, instead of using a local lab? How are they sent? 
We must send test swabs to an authorized Public Health lab. As the North Bay lab does not have the capacity to process our weekly high volume, Toronto was the next choice. The North Bay Regional Health Centre organizes a medical courier to take our tests to Toronto. 
We're still gathering the info needed to answer specific questions about different kinds of testing [e.g. BioFire].  Stay tuned...
---
Starting with the good news...
Residents are getting their second vaccine shots on Monday, March 1, 2021!
Now the not so good news…
We've had technical issues with our new questions@cassellholme.ca email – sorry about that. It's all fixed now, so we have to ask you to resend your queries. We'll make every effort to answer them in Monday's update.
---
Today we have these answers to a number of your questions:

Which COVID test has Cassellholme been using? How are the results analyzed?
We are doing PCR testing as per the provided guidance. The collected swabs go directly to a Ministry-authorized lab in Toronto for analysis. 

Without the essential caregivers, are Residents receiving additional support?
Currently, there is no staff shortage at Cassellholme. Two additional activities staff members have been added to help with those Residents who are now in isolation.

When can essential caregivers return to Cassellholme?
As soon as the health unit provides new direction for allowing non-staff into the building, we'll let the essential caregivers know. 
Please continue to write us:
questions@cassellholme.ca
and we will respond as quickly as we're able to get the answers.

You can also call the '300' phone [705-474-4250 ext. 300]
Monday to Friday, 9:00 a.m. to 5:00 p.m.
---
Residents: 
We have no symptomatic Residents
All Residents are screened [temperature] twice a day and will be COVID tested tomorrow [Thursday, February 25, 2021]
Residents who were in close contact with their essential caregivers [who previously tested positive] were immediately moved into isolation
Two new Cassellholme activity staff are working directly with Residents in isolation to provide meaningful 1:1 activities [movement, playing cards, music listening, etc. dependent on Resident ability and interest], as well as connecting them with their immediate family or POA/SDM via FaceTime, Skype or Zoom

Staff: 
We have no symptomatic staff members
There are currently no staffing shortages at Cassellholme
Senior leadership meets daily with the health unit, hospital and Ministry
Cassellholme/COVID News:
All infection prevention/control procedures continue to be followed and the risk to Residents remains low
Cassellholme and the North Bay Parry Sound District Health Unit are working together to investigate reasons for the current outbreak status – see the related NEWS item https://www.cassellholme.ca/news/outbreak-investigation/
---
On February 23rd, we received updated information – three more essential caregivers that were retested via the mobile COVID testing unit, have confirmed negative results. 
2 staff – 2 retested negative

10 essential caregivers – 9 retested negative

1 essential caregiver 

is isolating out of district

 and unable to be retested
Residents who had close contact with people who tested positive on February 16th were immediately isolated and have remained so. Those Residents were retested today and we are awaiting results.

As requested by the North Bay Parry Sound District Health Unit, all Cassellholme Residents will be retested on Thursday, February 25th.
---
Ten essential caregivers, who tested positive on Tuesday February 16th, are being reassessed. Seven have retested negative. We're working to arrange retesting for the remaining three. The Residents these people care for were immediately moved into isolation and tested. ALL have been confirmed negative for COVID.
Two staff members received positive, low COVID detection results during the same time. Both have been retested as negative.


Many people have called to ask if they should be tested again. The simple answer is "no", unless you have been contacted by the Health Unit. 


As soon as we are able to open our doors to essential caregivers, we will begin testing again at Cassellholme. 


Currently, no one can come into Cassellholme – not even essential caregivers who have negative results. Strict visiting restrictions have been put in place. 


Our staff are working hard to ensure that all Residents are cared for, reassured and well-fed in the safest – and most compassionate – way possible. 


It is unsettling, to say the least, that we find ourselves in this outbreak situation. Let's continue to support one another and stay safe. We will keep you informed as we receive information from both the province and the health unit. 
---
CALL 705-474-4250 EXT. 300
If you are calling Cassellholme to check on a loved one's health, use extension 300.
This extension is answered 5 days a week, between 9:00 a.m. and  5:00 p.m. If we don't answer, please leave a message.
As you can imagine, we're getting a lot of extra calls these days. Please be patient, we're trying to return voicemail messages within 24 hours. This line is also used for general enquires.
---
Cassellholme's management team meets daily to discuss, review and implement directives from the Ministry of Health, including the use of masks and other PPE for employees. This includes both the types of mask and the location where it should be worn. The team is ready to make any changes as soon as they are required.


Follow the Golden [government] Rule
We know it's frustrating to keep your distance and to speak from behind a mask. We're all dealing with the same rules – here at Cassellholme and in our own families.
The provincial government is clear – failure to wear a face mask [NO EATING or DRINKING], or keep physical distance, can result in a loss of visiting privileges and your loved one may have to isolate for two weeks. None of us want that to happen.
Please download the new guidelines and/or this simplified visiting chart. Review them carefully before scheduling your next visit.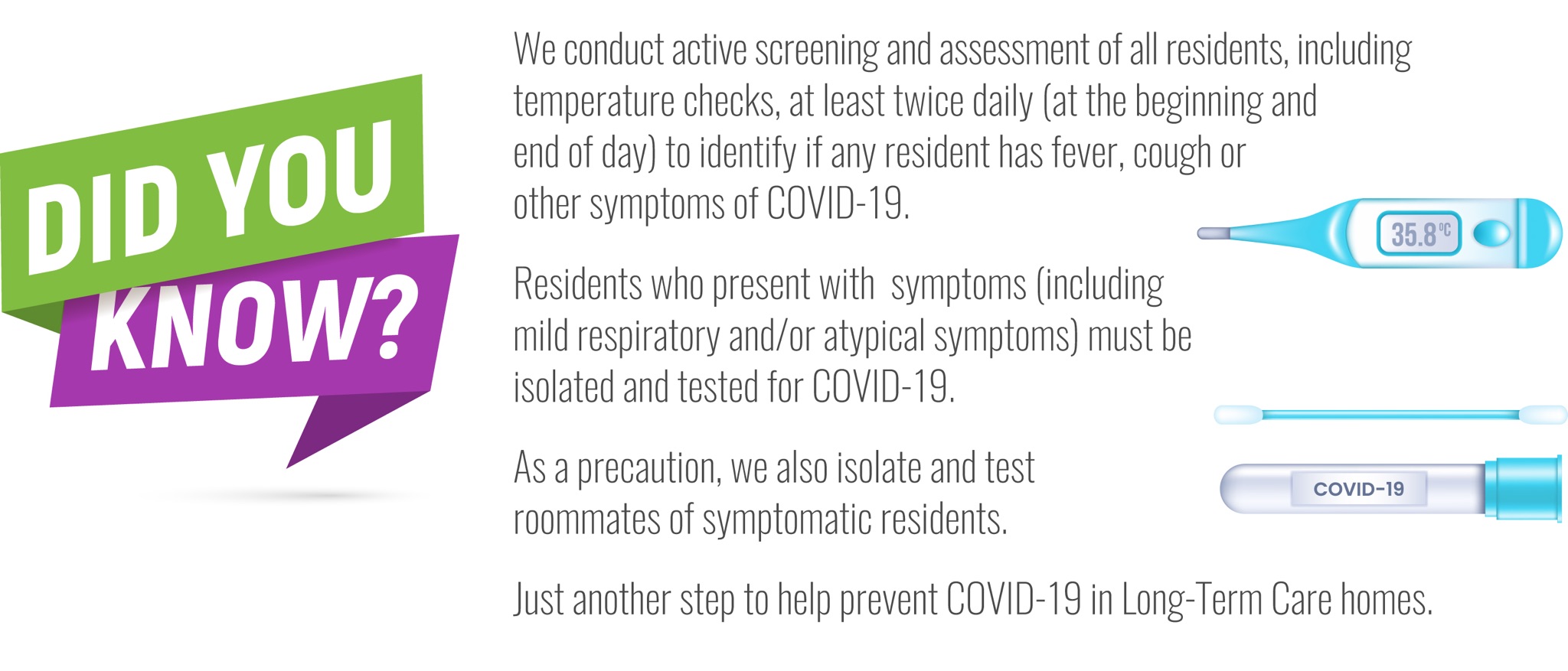 Things To

Look Forward To...
Cassellholme

News