Families
Documents
We want to thank you for your ongoing patience as we continue to develop our Visiting policy. Our first priority is always the health and safety of our Residents. Click here to read the current guidelines that will go in place immediately.

As we learn and grow together, we will keep you up-to-date. Check our News page and/or Facebook page before your visit, as we are frequently having to adjust our plans.  

Stay healthy. Stay safe.
---
Cassellholme's management team meets daily to discuss, review and implement directives from the Ministry of Health, including the use of masks and other PPE for employees. This includes both the types of mask and the location where it should be worn. The team is ready to make any changes as soon as they are required.
---
Ongoing internal residents COVID-19 testing results as of June 16, 2020
| | |
| --- | --- |
| Total Tested | 99 |
| Negative result for COVID-19 | 87 |
| Positive result for COVID-19 | 0 |
| Pending results | 12 |
---
COVID-19 Webinar for Families, POAs and/or Residents
Good afternoon families - I hope this finds you well
A webinar was held on April 16, 2020 for families, POAs and/or residents. It was hosted by Ontario Health North VP Clinical Dr. Paul Preston with North Bay Regional Health Center's Chief of Staff, Dr. D. Fung, and internist Dr. Ann Marie McKenna, Cassellholme CEO Jamie Lowery, and Cynthia Desormiers, as panelists.
The purpose of the presentation was to present an update related to local COVID-19 preparations and issues, including discussing Advance Care Directives and the provincial "Clinical Triage Protocol for Major Surge" developed to guide decisions related to care in the COVID-19 pandemic.
If you would like to view the recorded Webinar, please click on the link below and enter the Access Password.
Meeting Recording:
https://zoom.us/rec/share/69JwD42r9lJIG5XIsRHEV7V4GJrAT6a8hnMW-aFcn0-emVQv-ezEQKe5sUIdSZKD
Access Password: P9?k43?0
---
April 13, 2020 Update
Cassellholme has been proactive and created a zone, with vacant beds, on 3rd floor west for residents who require isolation. It is our expectation that this zone will be ready to use on Wednesday, April 15/20. Staffing details, infection control measures, signage and safety issues are being finalized over the next couple of days.
Cassellholme is limiting the number of residents who community dine. We have reduced the number of residents who eat in the dining rooms by implementing tray service on Apple and Maple Street. We will continue to implement these same measures on  2nd (Birch Street/Cherry Lane) and 3rd floor (Willow Street) in the next several days.
---
Please see below for some key points of information about the changes at Cassellholme related to COVID-19. The changes have been made following the Long-Term Care Homes Directives received from the Ministry of Health.
Long-Term Care homes must be closed to visitors, except for essential visitors
Active screening of anyone entering the home must be done and includes key questions and temperature checks
Long-Term Care homes must not permit residents to leave the home for visits to family or friends
Residents can choose to leave the home to live with family. This would be deemed to be a discharge from the Home
Personal Protective Equipment is being inventoried daily to ensure adequate supplies to all units
All residents are being screened by a registered staff twice daily for elevated temperature and symptoms
Resident who are assessed and found to have respiratory symptoms are tested.
To date no tests have returned positive  
Staffing levels are being monitored and remain satisfactory
Summer students are being hired to begin working earlier than in other years
Every effort will be made to update this information with any new changes. Please check back periodically and stay safe.
---
---
705-474-4250 Ext. 300
If you are calling Cassellholme to check on a loved one's health, use extension 300.
This extension is answered  7 days a week, between 11:00 a.m. and  6:00 p.m.
As you can imagine, we're getting a lot of extra calls these days.  Please be patient, we're trying to return voicemail messages within 24 hours.  This line is also used for general enquires.
---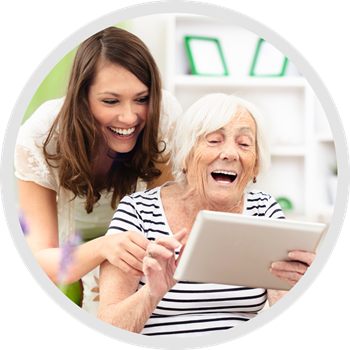 We know that being in touch with your loved one during this challenging time is important.
Please contact Mandy Gilchrist to help you navigate the best time and way to reach out -- by phone, email, Skype, WhatsApp, or FaceTime.
A sense of community and personal connection helps residents stay healthy. 
Mandy can be reached at:
705-474-4250 ext. 223
[8-4 p.m. Monday to Friday]
or by email gilchristm@cassellholme.on.ca
---
---
Things To

Look Forward To
Cassellholme

News